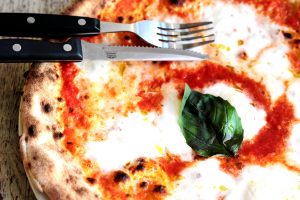 Amici Miei – "My Friends"
Here at Amici Miei, our restaurant is built on passion. Passion for the authentic wood-fired pizza we make, passion for our heritage, and most importantly, passion for our diners. Our dough is what really sets us apart. Using a slow-rising process lasting 72 hours, we create a sourdough base that imparts a unique flavour on our pizza that's unlike anything else available in London.
In addition to our famous wood-fired pizzas, we serve up an array of traditional Italian specialities, all made from scratch and using the very best ingredients. From salads like the classic caprese to oven baked lasagna vegetariana and our decadent tiramisu, our offerings provide a sensory experience that's unmatched in London. Plus, our relaxed premises are easy to reach – you'll find us on Kingsland Road, just in between Hoxton and Shoreditch High Street stations. Swing by Amici Miei the next time you get a craving for great pizza. You won't be disappointed!